While we think fishing is certainly the most fun to be had in Costa Rica…there are actually other attractions in this beautiful country…no really…there is more than fishing! Below you will find a wide variety of activities for the whole family to enjoy. Combine your fishing trips with hiking, shopping or other water activities like surfing or kayaking for a well-rounded, fun for the whole family getaway. Costa Rica is an amazing country can offer a wide range of adventure during your Costa Rica vacation, anywhere from water activities to forest attractions.
Nature or Eco-Tours
On Land
On Water
Culture
Nature or Eco-Tours Costa Rica's mindset focuses on its fabulous, plentiful natural resources. It would only be logical that the culture of the people of Costa Rica includes a great respect for nature, and a population geared toward conservation, expansion, and protection of the natural beauty and diversity of their flora and fauna. Because of this, Costa Rica has a very large National Park program, where large areas of the country, the beaches and the waterways are protected and preserved for the future of the country. You can enjoy these pristine areas of the country including the parks, the forests, the live volcanoes and the wide variety of animals.
National Parks – 27% of Costa Rica is protected in their National Park system. This amazingly huge percentage of protected land far surpasses the National Park System of the United States (less than 2% of the country) and any other country in the world as well. These protected areas are home to such a great diversity of animals such as monkeys, exotic birds, insects, trees, flowering plants, and reptiles. Popular tours of these protected areas are so popular with visitors, especially photographers, birdwatchers, and nature lovers.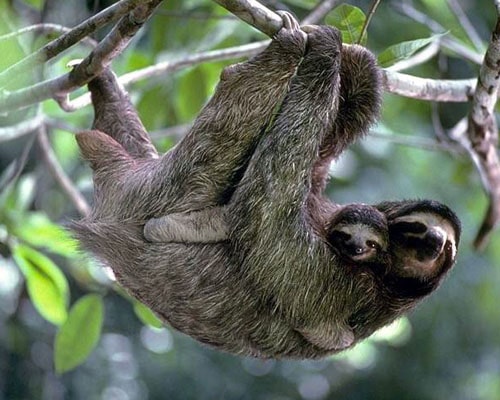 Forests – It is to be expected that the spectacular tropical rain forest areas of Costa Rica would be a perfect escape from the day to day life in the city. These damp, green forests are home to a wide variety of animals and insects. Hiking through the forests can be relaxing and exciting, allowing the visitor to literally forget about the hustle and bustle of the crowded cities they are accustomed to. Considered an endangered ecosystem, these forests are protected from lumber companies and pillagers who used to strip the forests of the highly demanded rainforests woods. But the tropical rain forests are not the only forests in Costa Rica.
Tropical dry forests are also plentiful, offering a completely different spectrum of animals and plants. Huge twisting trees, monkeys, bats, and other creatures call the tropical dry forests home. Cloud forests, the most awe-striking landscape of Costa Rica, offers a cloud blanketed forest, dreamy and exotic from the air, and warm and inviting from the land, these forests are a visitor must-see. A blanket of clouds covered the green forests at the top of the tree line, holding in moisture for beautiful mosses and low lying plants to grow plentifully.

Volcanoes – The rugged landscape and plentiful mountain ranges give way to 7 active volcanoes. These amazing spectacles can be seen spewing lava, ash column, and other displays. Visitors can climb up the safer volcanoes to view the craters and lava up close, but some volcanoes are so active and unpredictable their beauty must be admired from afar. Directions are available at each location regarding the safe viewing of each landmark. Read about the Arenal Volcano here https://costaricatransfers.net/arenal-volcano-national-park/
On Land When you are finished with fishing for the day, there are plenty of activities available on the Costa Rican mainland. Many activities take advantage of the beautiful landscape of the country, while others offer the luxury and relaxation craved by many visitors.
Hiking/Biking – Walking or biking tours often offered by locals allows for a close-up view of the natural beauty and diversity of Costa Rica. Take a walk through the tropical rain forests, stop at a sparkling waterfall for a swim, climb the inactive volcanoes or local mountains, or ride the plentiful bike trails. Birdwatching, a common practice during these tours, can be exceptionally rewarding, as more than 800 species of birds call Costa Rica home. Mountain Biking, a more extreme version of the bike tours, is available for visitors at all skill levels.

Horseback Riding – An alternative to walking or biking, see the country the old-fashioned way, or take a gallop down one of the pristine, secluded beaches for a romantic sunset evening. The sunset over the Pacific coastline can be spectacular from the saddle of a beautiful mare.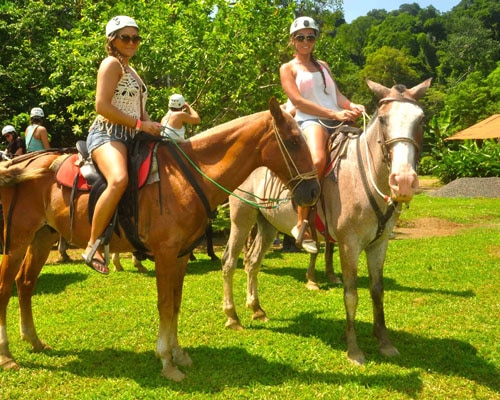 Golfing – The wide-open landscape and sometimes rugged terrain have led to some of the most challenging golf courses in the world. A perfect after-fishing pass time, golfing can put a relaxing end to a perfect day.
On Water Can't get enough of the beautiful crystal blue waters of Costa Rica? There are plenty of more water activities available on Costa Rica's beautiful ocean beaches, lakes, and rivers.
Beaches – Costa Rica has some of the most beautiful white-sand beaches in the world. Spend the day basking in the sun on one of the hundreds of secluded beaches, or walk the length of the beaches observing the unique ecosystem and plentiful wildlife. The beaches on the Pacific side are particularly popular and are suprisingly private.
A large amount of available beach space allows for less crowding at the shoreline.
Surfing – Practically the national sport, surfing is one of the favorite pastimes of Costa Rica. With the relative emptiness of the beaches, surfers who come from all over the world are treated to glassy perfect waves on a regular basis. From rocky to sandy bottoms, right and left breaking waves, and out of the way surfing spots reachable only by four-wheeled drive vehicles, Costa Rica is the perfect surfing vacation.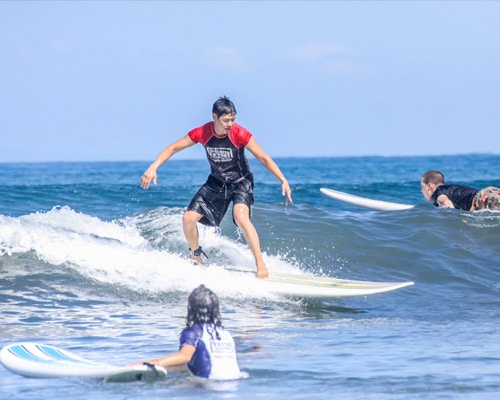 Kayaking/Rafting – Up for an extreme adventure but not sure surfing is for you? Kayaking can be a perfect alternative, allowing for a slower-paced cruise through any area of Costa Rica's waters, ocean, lakes, or rivers.
Birdwatching and other nature tours use kayaks as their primary mode of transportation allowing for a perfect view, but not allowing for the natural habitats to be disturbed. Rafting, a more extreme and exciting trip, is available in many areas of the country, and is a popular sport to combine exercise and adventure in this tropical country.

Diving/Snorkeling – Want a little more variety in your fishing trips? Diving or snorkeling Costa Ricas natural reefs can be the trip of a lifetime. Observe the exotic, brightly colored fish in their natural environment. View colorful coral, sponges, and other marine life but remember…the reefs are protected! Please leave them as you find them. You may even be lucky enough to glimpse a whale or porpoise plentiful offshore on the Pacific Coast.
Culture Costa Rica is rich in culture. The locals of Costa Rica are surprisingly different from most of their Central American neighbors. Their ideals center around democracy and peace, allowing for a prosperous and comfortable existence, and a friendly atmosphere. Their history is as exciting as the country is today. Long ago, Costa Rica functioned as a central meeting place for cultures to the north and south, and it became a trade mecca, where goods from the different areas were exchanged and displayed.
Today the country still functions as a financial and trade stronghold in the area, but the concerns for the natural resources override any and all potential environmental invaders. The country is mainly Catholic, but their constitution protects freedom of religion, as well as the many other freedoms common to the United States. You can still see remnants of days past in cultural festivals, Christmas celebrations, local crafts, and historical museums. And don't forget the shopping! Costa Rica's cities provide anything and everything you could ever want, including art and goods from local crafters, leather goods, books and poetry, and more.
There are so many things to do in Costa Rica that you may have trouble fitting everything into your vacation time. Let Captain Paul maximize your fun and minimize the stress related to planning your trip. Give us a call and we will help customize a package for you!